Betz-Chrom is the specialist for surfaces in plastics engineering. Decades of experience in in-house anode and fixture construction enable us to provide individual and precise coatings for geometrically complex extrusion and injection molding screws for protection against corrosion and wear. Due to the anti-adhesive hard chrome property, the "sticking" or "caking" of plastic is avoided, so the cleaning process of the screws is less time-consuming. Furthermore, we offer the regeneration of screws.
Our know-how for protection against wear and corrosion
The challenge in hard chrome plating lies in the targeted application of apertures and auxiliary anodes to ensure even layer distribution. Our fixture construction team combines 70 years of anode engineering experience with advanced CAD software and 3D printing technology to create the optimal fixture based on the engineering drawing. You also have the option of chrome-plating pre-nitrided screws. This requires a series of special pretreatment steps to guarantee perfect adhesion of the chrome layer to the base material. The hardened base material in combination with the hard chrome layer will increase the service life many times over. As a downstream process step, we carry out mechanical processing using the grinding and polishing processes.
Especially for the plastics industry, Betz-Chrom hard-chromes the following components: screws, nozzles, mandrels, housings, tubes, displacers, mandrel carriers, torpedoes, chasers, spiral distributors, screw heads and screw tips. Learn more about our hard chrome processes.
Screw cylinder can be plated with the electroless nickel process. Here you can get more information about electroless nickel plating.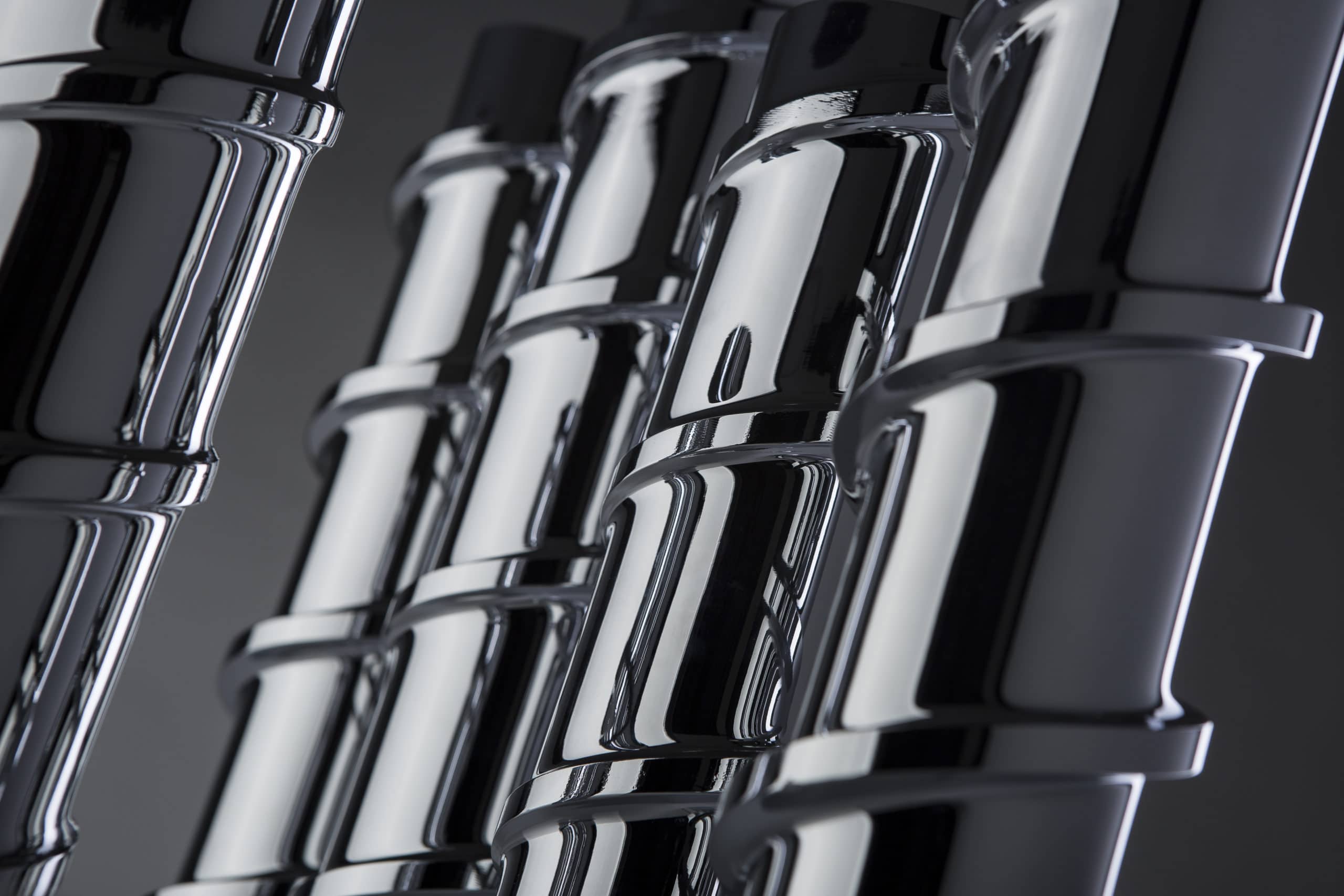 Dimensions of your components for hard chrome plating:
Vertical chrome plating: ⌀ 1300 x 4700 mm or 8000 mm with rotation of the workpiece
Horizontal chrome plating: ⌀ 60 x 6500 mm
Forms: 1700 x 1500 x 1300 mm
Weight: 5000 kg
Repair of worn screws
The high-quality regeneration of injection molding screws and extruder screws is a cost-effective, time-saving and resource-saving alternative to purchasing new ones. The restoration of the original dimensions and technical characteristics is accompanied, analyzed and documented by our quality team. For the mechanical processing steps of the repair, we work with carefully selected cooperation partners. The hard chrome plating, polishing of the screws and final quality control takes place exclusively in our company.
faster than a new acquisition
less expensive than a new acuisition
more resource-saving compared to a new acquisition
all common steels can be coated