Hard chrome plating produces a much thicker coating than decorative chrome plating. Hard chrome, also known as engineering chromium or industrial chromium, is characterized by very good wear resistance to mechanical stress and is therefore used specifically for wear protection of components in a wide range of industrial sectors. Other outstanding properties of hard chrome coatings are tribological advantages such as low adhesion tendency and wettability, resistance to chemical stress and high temperatures as well as corrosion protection at higher layer thicknesses.
Hard chrome plating – Our processes at a glance
Precision Hard Chrome Plating
Accurate fit without mechanical processing
If the technical specification of the workpiece allows it, the layer build-up can occur so precisely that chromium plating is carried out directly within the defined tolerance range. In this case, subsequent grinding of the hard-chrome plated surface is not necessary.
To ensure that the hard chrome layer builds up to an even thickness, a fixture tailored to the component is attached. The fixture directs the current path and influences the current density so that a uniform layer structure is created.
For simple component geometries, the additional costs for the required fixture are more than compensated for by the elimination of mechanical finishing. For larger quantities, this economic effect is increased by reusing the fixtures.
Excess Hard Chrome Plating
For thick chromium layers and reconditioning
For thicker hard chrome layers, components are chrome-plated with excess and then subsequently ground to the specified dimension. his applies in particular to components that require especially high wear protection.
In combination with our mechanical processing, excess chrome plating is also suitable for recondition of worn components and buildup of undersized parts. Here you can read more about the regeneration of components.
Multi-layer Hard Chrome
For even higher corrosion protection
With the multi-layer hard chrome process, also known as double hard chrome process, a double or triple hard chrome coating is produced. The multi-layer process builds up several firmly bonded hard chrome layers on top of each other by interrupting the layer structure in layers.
Micro cracks running from the surface to the base material are prevented by the multi-layer structure. With an intact multi-layer hard chromium coating, the penetration of corrosion-promoting media up to the base material is excluded.
Multi-layer hard chrome is recommended for components that are permanently exposed to media such as chemicals, plastics or salt water. Typical applications are impression cylinders, cylinder liners and hydraulic elements in mining, vehicle construction or mechanical engineering.
Matte Hard Chrome
For a defined roughness depth
To achieve a structured surface, the workpieces are blasted before the coating process. Blasting produces the defined roughness depth.
After surface finishing, the components have a textured hard chrome layer and stand out visually with a matte surface.
The defined roughness depth can be used, for example, to control the adhesion (grip) of feed rolls in the paper or textile industry. Here you will find further information about the mechanical pretreatment of blasting.
Hybrid Coating
Electroless nickel and hard chrome coating
In hybrid coating, components are first electroless nickel-plated and then hard chrome-plated. In doing so, all the advantages of hard chrome and electroless nickel are being combined in one shift system.
The combination layer guarantees very good wear protection in conjunction with high corrosion protection and is ideally suited for use in an environment with high chemical and mechanical stress.
The layer thicknesses are based on the technical requirements, e.g. 0.030 mm electroless nickel and 0.040 mm hard chrome. The maximum possible component dimensions are reduced to ⌀ 600 x 1100 mm due to the smaller nickel plant. Here you can learn more about our hybrid process.
Thermal treatment
Against hydrogen-induced embrittlement
The heat treatment baking or annealing serves as a preventive measure with regard to the resistance of high-strength steel components to hydrogen-induced brittle fracture based on DIN 50969.
The background is that during the coating process a co-deposition of hydrogen occurs. Atomic hydrogen penetrates into the component and leads to post-curing. In the case of harder and stronger materials, this hydrogen embrittlement can lead to a fracture of the component when subsequently subjected to stress.
To prevent this, the hydrogen absorbed during the coating process is removed from the material by means of a defined thermal treatment. The components are tempered in a furnace between 120°C – 210°C directly after chromium plating.
The optimal fixture for an even layer structure
The challenge in hard chrome plating lies in the targeted application of shields and auxiliary anodes to ensure a uniform layer distribution even at higher layer thicknesses.
Our fixture construction combines 70 years of experience in anode technology with modern CAD software and 3D printing technology to create the optimum fixture based on the technical drawing.
This enables us to coat components with different geometries and inner diameters in a high quality and uniform manner.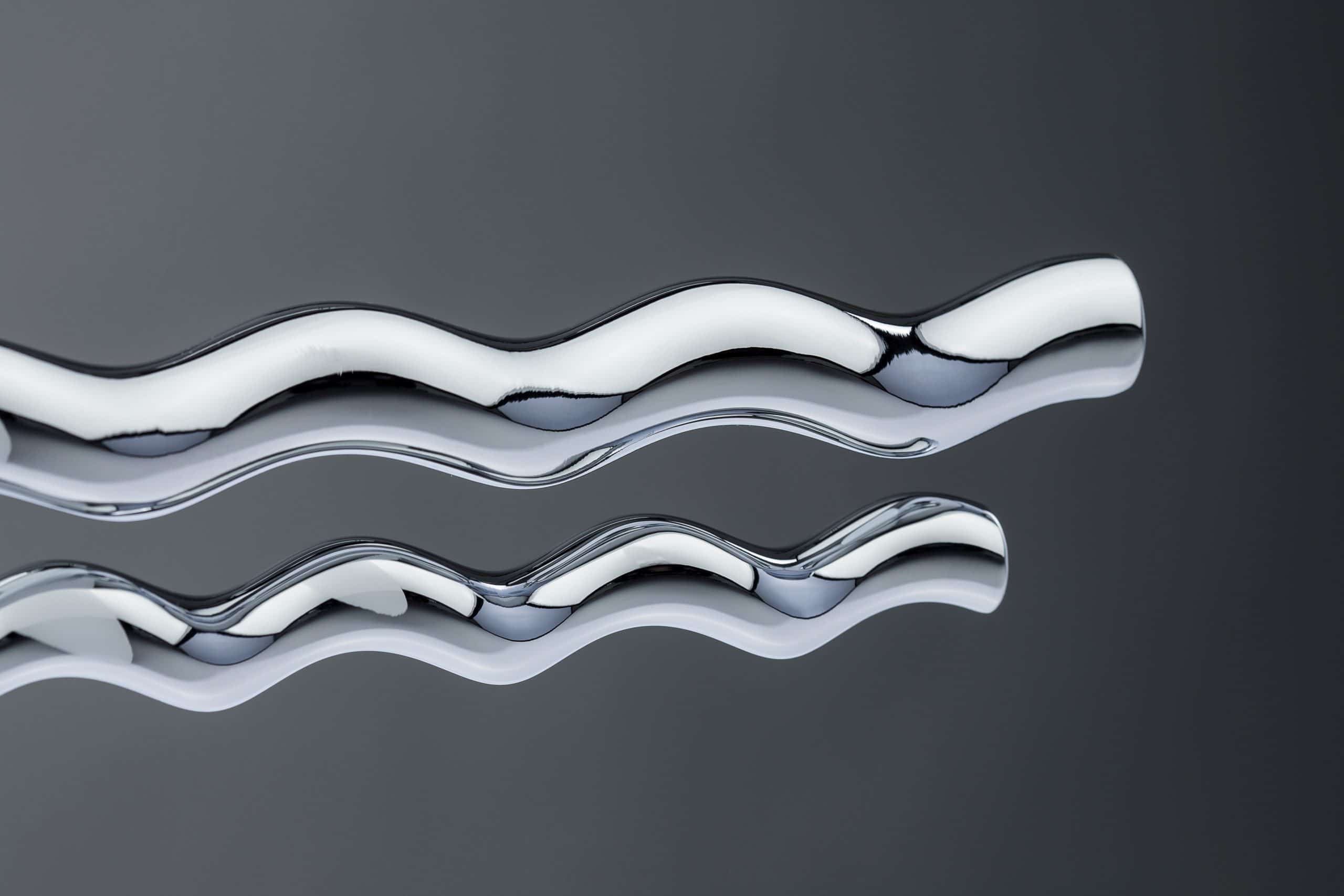 Properties of your components
Base material: all steels and non-ferrous metals
Vertical: max. ⌀ 1300 x 4700 mm or 8000 mm with rotation of the workpiece
Horizontal: max. ⌀ 60 x 6500 mm
Forms: max. 1700 x 1500 x 1300 mm
Weight: 5000 kg
Coating properties
Layer thickness: 0.003 to 0.500 mm with warranty (beyond that without)
Roughness: Rmax < 0.1 μm to Rz 70 μm
Hardness: 1000 ± 50 HV 0.1
Corrosion resistance base material according to DIN EN ISO 9227-NSS: > 480 hours with MHC
Expansion coefficient: 6.6 to 8.4 x 10-6 1/K
Ductility: 0.1% elongation at break
Wear resistance: < 5 mg/1000 revolutions
Coefficient of friction: 0.15 lubricated or 0.21 dry against steel
Tensile strength: 280 to 450 N/mm²
Non-magnetic
Lead and cadmium free (RoHS compliant)
Various useful properties of the hard chromium coating combined provide the high wear resistance. On the one hand, the chrome layer is very hard without distorting the material. The low friction coefficient confirms the anti-adhesive properties of the chrome layer. This refers to the behavior of chrome surfaces to repel aqueous media and dirt. This ability also increases the corrosion resistance of hard chrome surfaces.
A further advantage is the micro-cracked structure of the hard chrome layer, which absorbs applied lubricants well for wear protection. The fine network of cracks also increases the ductility of the chrome layer, making it less brittle in relation to its high hardness.
Components coated with hard chrome are free of lead and cadmium according to the RoHS and WEEE directives. According to FDA standards, the material is qualified to get in contact with food.
Express service
For orders with increased deadline pressure, you have the option of using our express service. This is agreed upon in direct consultation with our production control and charged via a surcharge.
Initial sampling
Before starting more complex series, we offer you an initial sampling at discounted rates. Here you can convince yourself of the quality of our processing. In addition, together we ideally coordinate our production processes.
Tips for delivery
For optimum quality and short lead times in our production, the delivery condition of the components is one of the decisive factors. Here you will find helpful tips for the delivery of your components.
Material recommendation for the base material
For hard chrome plating, we recommend Ovako steel as the base material. Here you can get to the website of Ovako.